BuildFax Helps You Understand
Property Condition and History
1 Major components
2 Construction history
3 Neighborhood trend
Preview Report
In your next property


transaction
Be

Educated

Leverage BuildFax's 23 billion data points on commercial and residential structures to get detailed information about property construction and history.

Be

Detailed

See all of the building permit details, contractors and inspections that have occurred on a property.

Be

Cautious

Use BuildFax's 20-point history scan to highlight significant property activity.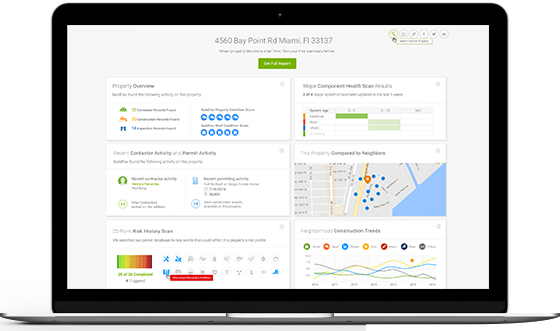 BuildFax Report
Get the Insights
Be

Smart

Be an expert negotiator by knowing when major property components have been updated.

Be

Aware

Buildfax's system age estimates on Roof, Electric, HVAC, and Plumbing enables you to estimate upkeep and replacement costs.

Be

Local

BuildFax Trend data is available on hundreds of thousands of neighborhoods to identify areas on the rise or decline.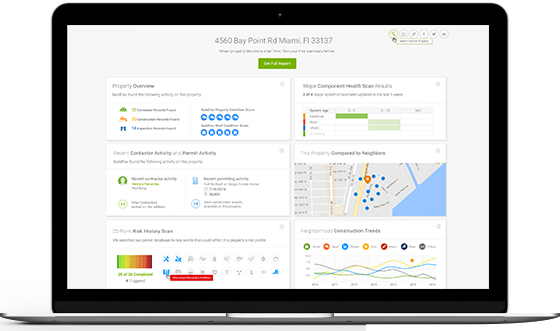 BuildFax Report
Get the Insights
BuildFax for
Business
Businesses Love BuildFax - BuildFax is used by the biggest insurance, lending, construction, and property platforms in the country.
Insurance

Smart insurance companies use BuildFax property condition data for underwriting, inspection optimization, rating, and more. BuildFax property insights reduce risk and boost your bottom line.

Real Estate Pros

Savvy Realtors, home inspectors, and appraisers use BuildFax's trusted property history and condition data to wow their clients. Stand out from the competition and be more memorable for future referrals.
Custom Data Integrations

Top real estate portals and property-focused service providers use BuildFax to enhance their customer offerings.

Lenders

Lenders use BuildFax to provide automated property condition assessments and validation. Reduce risk and maximize profitability.
At
BuildFax

, we share a common passion for

unlocking the value

of building permits to empower

smart

property

decisions

.

We are THE experts in interpreting permits and delivering insights that matter, so you can make smart property decisions.

You'll receive valuable information from our data that can unlock your success with customers.

Find Out How

From the
BuildFax

Blog
Loading
Please wait...